Passport to pittsburgh
Passport to Pittsburgh is a visual aid and reference booklet for Pittsburgh's international refugee population, created over five months as a capstone project to complete my undergraduate degree at Carnegie Mellon's Human-Computer Interaction Institute.

​
Collaborators:
Max Harlynking, Clara Kim, Brian Li, Hannah Pravel, Chengcheng Zhao
Advisor: Robert Kraut
My Role:
Design and Research
A copy of the final iteration of Passport to Pittsburgh.

​context
My team worked with Jewish Family and Children's Services (JFCS), an organization that helps incoming international refugees acclimate to life in the United States, to design an intervention benefiting the organization's refugee clients. Our primary focus was JFCS's cultural orientation (CO) program, a structured 90-day period during which refugees are given instruction and training on topics ranging from English to Social Security to job-hunting. Our task was to identify gaps and needs felt by refugees within the process, and address them through a targeted design intervention. The two needs Passport to Pittsburgh addresses are

transportation

and

scheduling

.
​
Because JFCS's refugee clients are expected to attend numerous appointments with JFCS staff, instructors, doctors, and social service workers, it is important that they are able to effectively schedule, remember, and attend these meetings using Pittsburgh's bus system. Also, since many JFCS clients come from low-literacy backgrounds, it was key that our solution is low-tech, and primarily visual.
​
Content
Transportation

When designing the Passport's transportation component, our primary goal was to provide a way for our refugee users to:
1)

know which bus they needed to ride to reach their desired destination,
2)

find where to catch that bus,
3)

identify and board the correct bus, and
4)

get off at the correct location.
​
To address these needs with a paper tool (and without GPS!), we settled on a "hub and spoke" system to allow us to standardize the bus trips a user might need to make. Every trip would have two parts: the trip from a user's home to downtown (the "hub"), and then the trip from downtown to their destination (the "spoke").
Passport includes a Pittsburgh map card, which features a stylized map of Pittsburgh with colored regions. These colors are carried forward to other aspects of the design in order to orient users to their location relative to the rest of the city.
​​
​With this system in place, we began to design a series of "bus cards" that would provide information to help users achieve the four goals listed above. Again, we targeted an iconographic and text-light format to avoid literacy and language barriers. We iterated on the issues of return trips, visibility, walking distance, and other visual design considerations. Doing so gave us an opportunity to step down from the abstract and think about the end-user experience in a concrete way.
Iterations of the transportation cards grappled with providing high-fidelity navigation context to the user, while keeping with the project's constraints of a small form factor and minimal text.
Each card has content on both sides detailing the outgoing and return trip.
Each card had landmark pictures to give users a point of reference when riding the bus or looking for the correct bus stop. One key usability finding was that the on-bus landmark pictures needed to be captured slightly before the actual bus stop, to give the user time to request a stop. ​ Other navigational needs, like walking directions after the user leaves the bus, ended up being relegated to separate location cards to avoid cluttering the bus cards.
Left and Center: The outbound and inbound bus cards for the downtown-to-clinic route. Each location's color-coded header corresponds to a region of the Pittsburgh map card, letting users know when they've moved through the city and helping them develop a mental map.
Right: The location card for the clinic, for use once the user gets off the bus.

​Scheduling
​The primary focus of the scheduling component of the Passport was to enable a refugee and their case worker to collaboratively create a physical calendar of the refugee's appointments.
Pages for each day of the week, as well as custom-printed sticker tabs, allow users to easily organize their appointments. Tabs are used to mark appointments on each scheduling page. Each appointment is represented as a colored tab, with an icon indicating the appointment type: for example, doctor's appointments were symbolized by a red cross, while English class was symbolized by a book. The case worker would then write in the time of the appointment, with earlier appointments appearing higher on the page. Additionally, because we observed that many refugees wanted to take notes during their appointments, the majority of the page is intentionally left blank to allow note-taking.
The different colors of scheduling tabs also correspond to the Pittsburgh map card, allowing users to quickly see what area of town their appointments were in.
Form Factor
Usability testing and material testing were also key to creating an effective intervention. Since our design was a physical booklet, it needed to be sufficiently durable to be carried around in the elements, while lightweight enough that users could quickly pull it out for reference. Laminated cards connected with o-rings were an early candidate, but felt extraneous to refugees who were already carrying a number of unfamiliar cards and papers. Finally, we decided to incorporate the design into a leather wallet, so that it might more easily integrate into users' daily lives.
Left: An early prototype testing the laminated "flipbook" style of Passport. Without a cover, this wasn't resilient enough to be carried around.
Right: A later prototype with the leather wallet cover.
distribution
When JFCS saw our near-final prototype, they were very excited about the concept and were interested in moving forward with deploying it to actual refugees. As such, we didn't want to leave Passport as a prototype, and began to consider how it could be printed and distributed en masse.
​
Because our users hail from a number of different countries speaking a number of different languages, it was important that there be multiple versions of Passport to accommodate each refugee's needs. Additionally, because each book would require personalized information (including home address, contact information, etc.), it was important that JFCS be able to quickly and cheaply modify or create new Passports. In order to best address both of these needs, our team took stock of what document creation technology JFCS had access to: inkjet printers and Microsoft Word.
Examples of Word templates provided to JFCS.
As such, we created Word templates so JFCS case workers could easily input their refugee client's information and images of relevant bus stops. Additionally, for the Passport pages that were static, we created "kits:" PDFs that were translated into the refugee client's language of choice. We also trained case workers and created a
how-to document
detailing the printing process. This ensured that JFCS would be able to create low-cost booklets quickly enough to be able to respond to new client arrivals, which were sometimes abrupt.
​conclusion
Working on Passport to Pittsburgh was an incredible experience that tested not only my experience and service design skills, but also my ability to think, research, and design outside the box. With that said, the most valuable and rewarding aspect of this project was the ability to affect a meaningful difference in the lives of those who need it most. During this project, I met and spoke with refugees who had often fled prior trauma, arriving in the United States with nothing. Understanding these individuals' unique needs and working to address them was incredibly sobering, and underscored the real potential for meaningful impact that we have as designers.
Powered by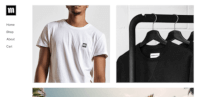 Create your own unique website with customizable templates.