Publications
"Critique Style Guide: Improving Crowdsourced Design Feedback with a Natural Language Model." Markus Krause, Tom Garncarz, Jiaojiao Song, Elizabeth M. Gerber, Brian P. Bailey, Steven P. Dow.
ACM CHI 2017
.
"Fruitful Feedback: Positive Affective Language and Source Anonymity Improve Critique Reception and Work Outcomes." Duyen Mary Nguyen, Tom Garncarz, Laura Dabbish, Steven P. Dow.
CSCW 2017
.
Powered by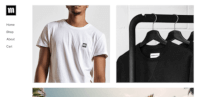 Create your own unique website with customizable templates.